Archive Spring 2013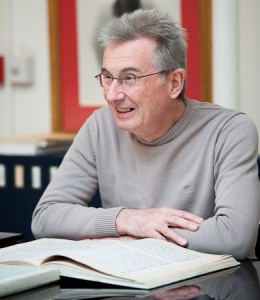 So here we are in a new year …and at last an update. La Périchole at Garsington was an enormous success and we are planning to repeat the Offenbach experiment in 2014. More later. Then in July came my début at the wonderful new Southrepps Festvial, the brainchild of Ben Johnson and Tom Primrose, so near me in Norfolk that I could walk there. We gave a stunning performance of Rossini's beautiful Petite Messe Solennelle in the original version with piano and harmonium, a chorus of eighteen healthy young voices and wonderful soloists, in St James's Church, exactly the right size for the work. I realised what a masterpiece it is. For me it is a panorama of life, from birth to death, concluding with despair and a hint of resignation in the face of death portrayed in the extraordinary setting of the Agnus Dei. A very moving event. And the festival is a true one, involving so many of the villagers, communal eating and drinking for everyone after the concerts and real identification with the event. A delight and worth a pilgrimage. I shall conduct Britten and Grieg there this August. Look at the programme on http://www.southrepps-classical-music-festival.org/
Autumn began early at the end of August: my first outing with the BBC Scottish Symphony Orchestra. We recorded four ballet scores by Verdi, which were real discoveries for me, especially the great ballet from Don Carlos. And Ivor Gurney's A Gloucesterhsire Rhapsody, a slightly strange bedfellow for Verdi… We managed to make sense of it. I loved working with the orchestra – they played beautifully and were great fun – and with the marvellous Andrew Trinnick producing. I also loved Glasgow: apparently I brought Norfolk weather – the sun shone for three days solid, almost unheard of there. Then in September to the Netherlands for three concerts with the Brabant Orchestra, another delightful group, and immediately afterwards the final concert of the 's-Hertogenbosch Vocal Competition. The standard was extremely high. I heard the semi-finals with piano and was really delighted to discover so many fine singers. There were ten finalists, each of whom sang two arias. The mammoth programme was decided thirty-six hours before the first rehearsal with the orchestra, so the librarian had a nightmare job in that short time. He produced every aria except one before the first rehearsal and the last aria arrived as a PDF attachment during the rehearsal: an amazing job. The concert was incredibly exciting and I'm glad to say the (extremely distinguished) jury made the right choices. The gorgeous and delightful Annett Andriesen, who masterminds the competition, is to be congratulated on taking it to such a high level and for the graceful and charming way she deals with everything that is thrown at her.
After that I had a little rest at my desk, writing a new translation of Le Comte Ory for Stanley Hall Opera. The great news is that it is to be published by Bärenreiter in their new Rossini critical edition. It will come out later this year …watch this space. Then in November rehearsals of The Mikado for English National Opera. Again a wonderful cast and great work with Elaine Tyler-Hall on the revival. I became obsessed with correct stressing and ultra-clear presentation of the text, to good effect, I think. I had reservations beforehand about spending so much time with Sullivan; but I have new and lasting respect for him now. I found it helped very much having become immersed in Offenbach, as indeed Sullivan was. His music needs lightness of touch and fleetness, and then it sounds marvellous. I am so enjoying the performances …and there are more to come later in January.
And then up I popped on that barge with the LPO during the Queen's Speech on Christmas Day… Good heavens!
Now for January with the Halle Orchestra, the BBC Symphony Orchestra and English National Opera: plenty to look forward to.